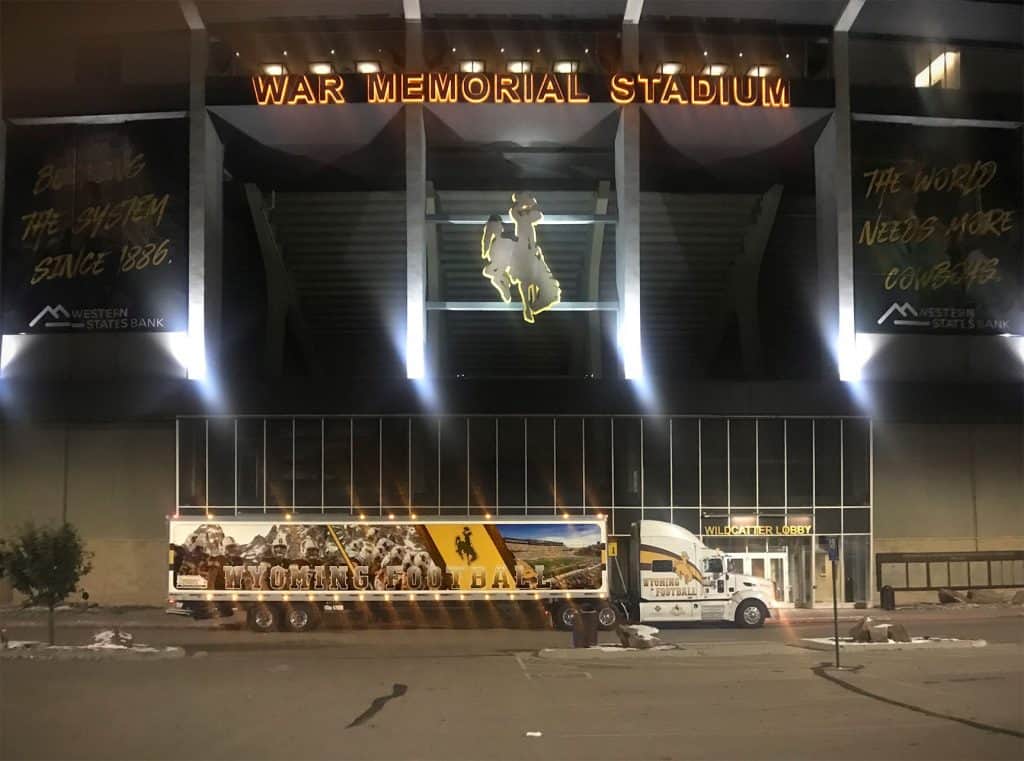 Arrow Moving and Storage Co., Inc. of Cheyenne, WY is proud to announce, for the 13th year in a row, we are the official moving and transportation company for University of Wyoming Football Department. Our trailer is pulled by a Peterbilt Model 387 tractor from Peterbilt of Wyoming and is wrapped in a design from Western Specialty Manufacturing Corporation of Cheyenne. Jonah Bank of Wyoming also partnered on the trailer. The trailer is 53 feet long and contains 4,100 cubic feet of space to haul Wyoming Football gear.
After many years, this is still exciting and it's an important relationship between the UW athletic department and our company," said Owner, Mike Ottoes. "We've been hauling the team's gear for many, many years. It means a lot to us to be a part of this." It is exciting to produce a custom truck like this to drive around the country and show the pride we all have in Cowboy Football. People tell us how much they love the truck and they want to take pictures with the truck. It's a lot of fun, and it's great to be able to help represent the university."
It is a unique project to complete," said Bill Miller of Western Specialty Manufacturing of Cheyenne, who created the design for the trailer. "It was fun working with Dan (Stinson, Equipment Manager for Cowboy Football) and the athletic department, sorting through photos and trying to find images that would work on the trailer. It was amazing. It took a little bit longer to get done than what we anticipated, but at any rate it was a fun project and a challenging one too.
We've done this project before, and we've made some changes to past trailers to reflect bowl wins and things like that. But this was a completely different process. We completely body-wrapped this trailer. One of the challenges of doing that was this truck has many, many rivets on it, which made it harder to do. While it was a challenge, that is what makes these types of projects worthwhile."
Stinson said that he and his staff will load approximately three dozen equipment trunks, including an estimated seven tons of player gear, staff apparel, coaches' communications systems, sports medicine supplies, radio broadcast equipment and video equipment into the trailer for each road game. The new 53′ trailer also features a lift gate to assist with the loading process.